'High Voltage' – transmission & usage
Following on from our recent post on our Solar Power System – On Grid Project, the observation has been made that it's rather inefficient to generate power as DC electricity, and convert it to a higher AC voltage, before converting it back again to DC to suit many consumer applications.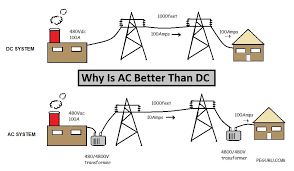 The issue of use of AC or DC is not a new one. Famously, in 1893, Thomas Edison who promoted the generation and use of DC 'lost' the battle to George Westinghouse who gained acceptance for the generation of AC at the Chicago World's Fair, since it was more efficient in long-distance transmission.
This has been the situation for more than a century and still applies with generation at remote power stations and transmission at high AC voltage to feed and satisfy local demand. The 240V (in the UK) AC mains electricity that is delivered to a household is perfectly suitable in this form for domestic high power applications i.e. cooker, washing machine, etc. On the other hand, electricity is used for variety of low-voltage DC devices and gadgets e.g. phones, TVs, computers and so on, contain power adapters converting AC to DC and stepping down to typically 12v or 5v USB. Lighting is traditionally AC, but with advancement in LED technology could be of a lower DC voltage.
The development of locally generated solar energy changes things somewhat. The generation output is low voltage DC. The majority of this generated electricity is utilised locally. Excess energy can be stored in batteries, which are also low voltage DC. This could be used in this form, but in order for a household to be able to supplement locally generated energy, when the sun doesn't shine (night time / winter), it still has to be wired to receive AC from the grid-based electricity. Also, to facilitate the export of excess energy (an increasingly valuable benefit of domestic solar power generation), the locally generated electricity must be converted to grid-compatible AC, using an inverter.
It should be the case that houses of the future are designed and built with solar panels on the roof. Indeed, it is now the case they are cheaper that slate, and so the materials and labour charges would be negligible costs if part of the build rather than as an add-on. In which case, the building could be designed with 12V DC and 5V USB supplementary to the 240V AC for mains wiring, feeding appliances directly at the type of voltage they require, eliminating power rectifiers and most voltage converters.
This 'direct supply' is already demonstrated in our Solar energy off-grid eBike charger project with the generated supply connected to a AA / AAA / C / D / PP3 battery charger using its 12V DC input (bypassing a 240V AC input, which requires internal conversion). The 12V supply also feeds LED lights without voltage conversion.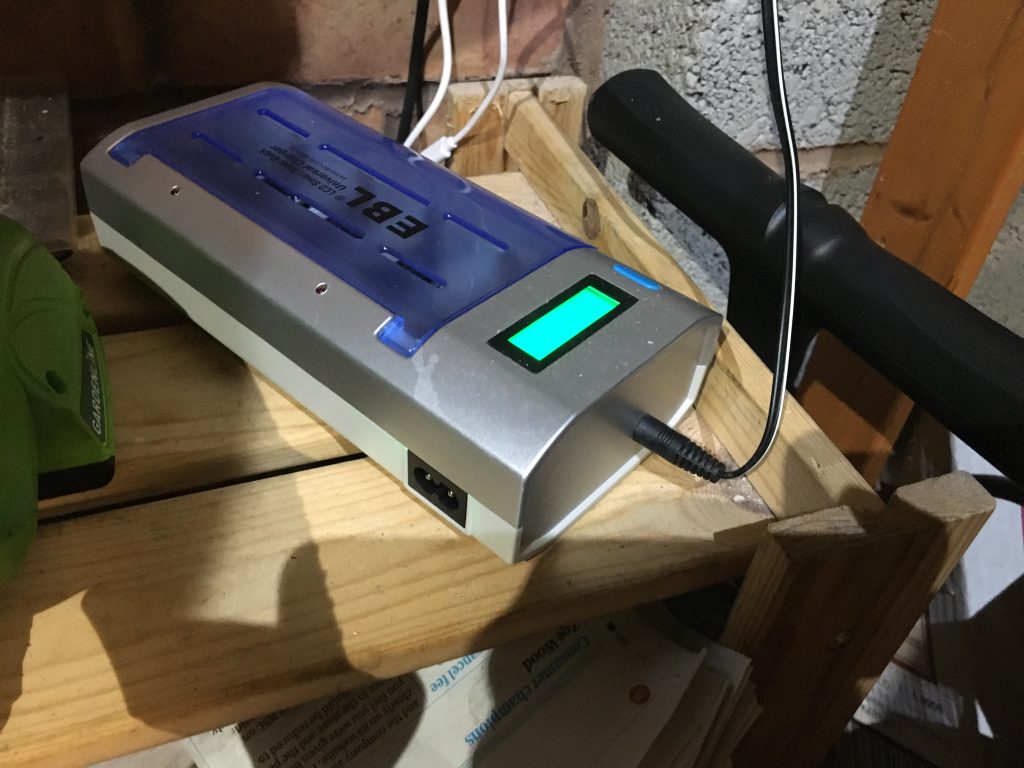 Similarly, the 5V USB outputs of the solar charger controller can charge iPhones and other gadgets.
'Highway to Hell' – EV charging & V2X
We know that Electric Vehicles (EVs) are going to be increasingly in use and will gradually take over from petrol and diesel engines.
And so the ability to charge these at home will be increasingly important and convenient. Some cars are already of a Plug-in Hybrid Electric Vehicle (PHEV) type, meaning that they can be charged from a domestic UK 240V AC supply for local use.
Another key development is the concept of EV batteries being used as supplementary storage for a household, so called 'Vehicle to Home' (V2H), 'Vehicle to Building / Business' (V2B) or 'Vehicle to Grid' (V2G) [collectively V2X indicating bi-directional, as opposed to single direction V1G], charging at low demand and discharging when household usage is greater, or to take advantage of higher export pricing.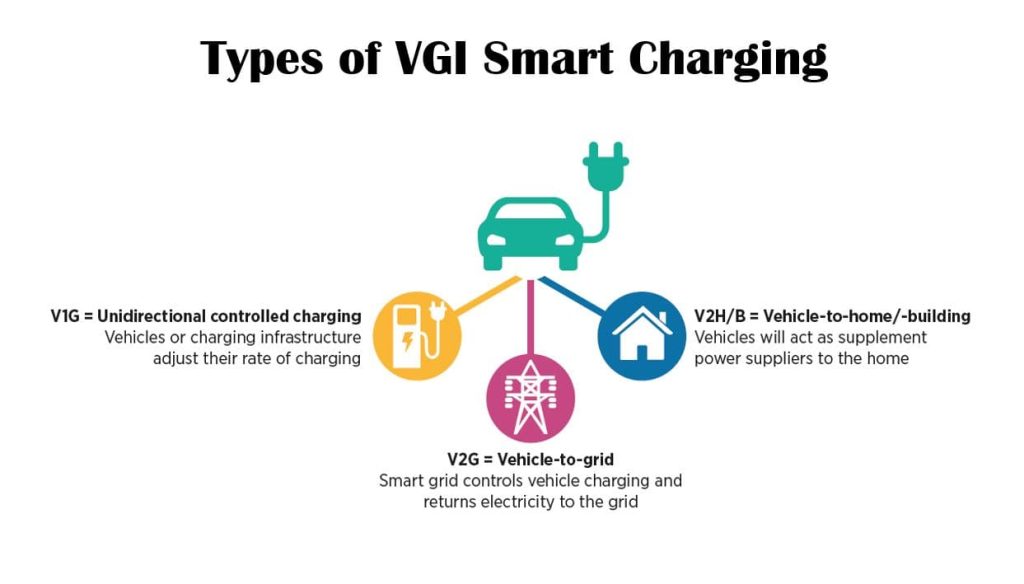 The AC supply is needed to be converted to a DC voltage useable by the car batteries, and similarly the car's electricity needs converting from DC to AC for household export. There are two ways of achieving this, by having a converter in the charger or the car. But if the premises has its own source of accessible DC power, ideally sourced from locally generated solar energy, then this conversion would be unnecessary.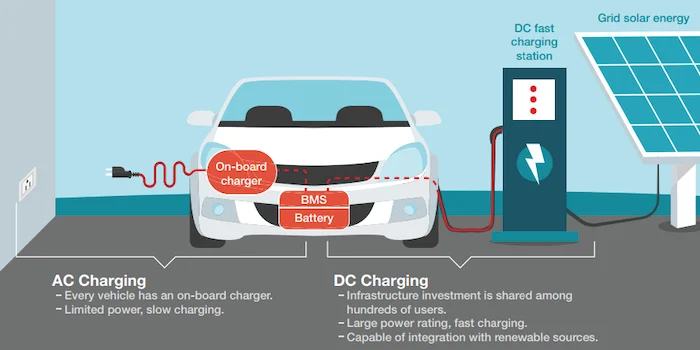 Another issue is that UK 240V AC is limited to 13A supply from standard household sockets (for most domestic use) providing slow charging at 3kW. A dedicated charging point using a UK Type 2 connection is an improvement with direct connection to the mains consumer unit, providing charging at 3.6kWh from a 16V AC supply or 7.4 KW from a 32V AC supply. Faster charging is possible with 11kW from 32A AC supply or faster still with 22kW from 63A AC supply, but these are more expensive, beyond the available power of many households and require a 3-phase supply.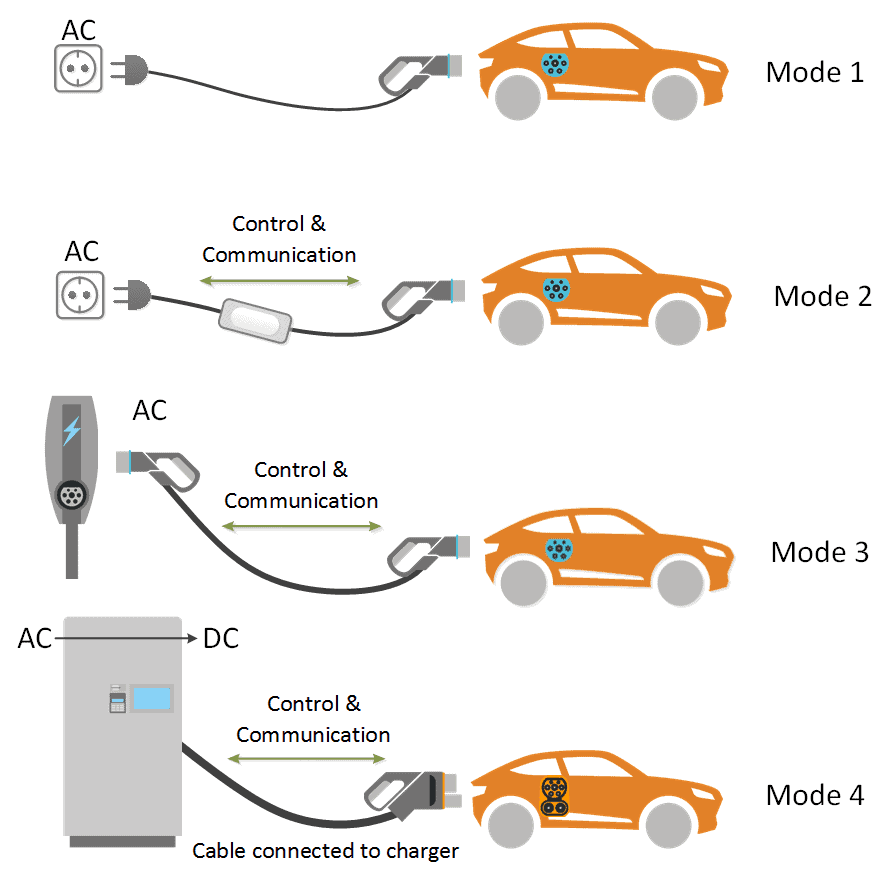 The European Union has specified the Combined Charging System (CCS) standard to permit both AC and DC charging. Much faster and more efficient charging at 100kW and beyond is possible using DC charging, eliminating the conversion in the vehicle. However, this is currently an even more expensive solution and limited to EVs that can accept a compatible DC input. Charging at commercial sites such as motorway service stations offer a variety of standards, including the CCS (Europe), CHAdeMO (Japan), GB/T (China) or Tesla Supercharger (propriety).
This conversion and compatibility issue is not confined to motor vehicles. As highlighted in the Solar energy off-grid eBike charger project, conversion using an inverter is necessary from the 12V DC power generated from the Solar Panel and stored in the battery, to 240V AC used by the required charger, which then converts again into 36V DC. The problem is not just related to type and size of voltage, as the lithium batteries used require special adapters to perform the charging correctly. It would be possible to produce these fed from a specialist DC adapter, but such chargers are more difficult (and expensive) to obtain, given that the domestic supplies are generally not available in this form and so consequently the demand for these products is not yet there.
'Thunderstruck' – Solar powered cooling (mini project)
Given the current heat-wave and the likely-hood of more temperature extremes as a result of climate change, coupled with cost-of-energy crises and possible supply shortages, it seemed appropriate to build another solar power project, this time focusing on powering a cooling fan with energy from the sun.
The concept is relatively straight-forward: using solar energy to assist with cooling. When sitting out and the sun is shining and the temperature is too hot, the sensible thing to do is shelter under some shade. But when there is little-to-no breeze, even in the shade it gets too hot to bare. In which case, a simple fan can help. The one selected was an old, cheap USB model, which provides a limited amount of cooling, but doesn't require much energy to operate. Also chosen was a small, also old, and low-cost 6V solar panel, which provides just enough energy to power a USB device using a suitable conversion lead.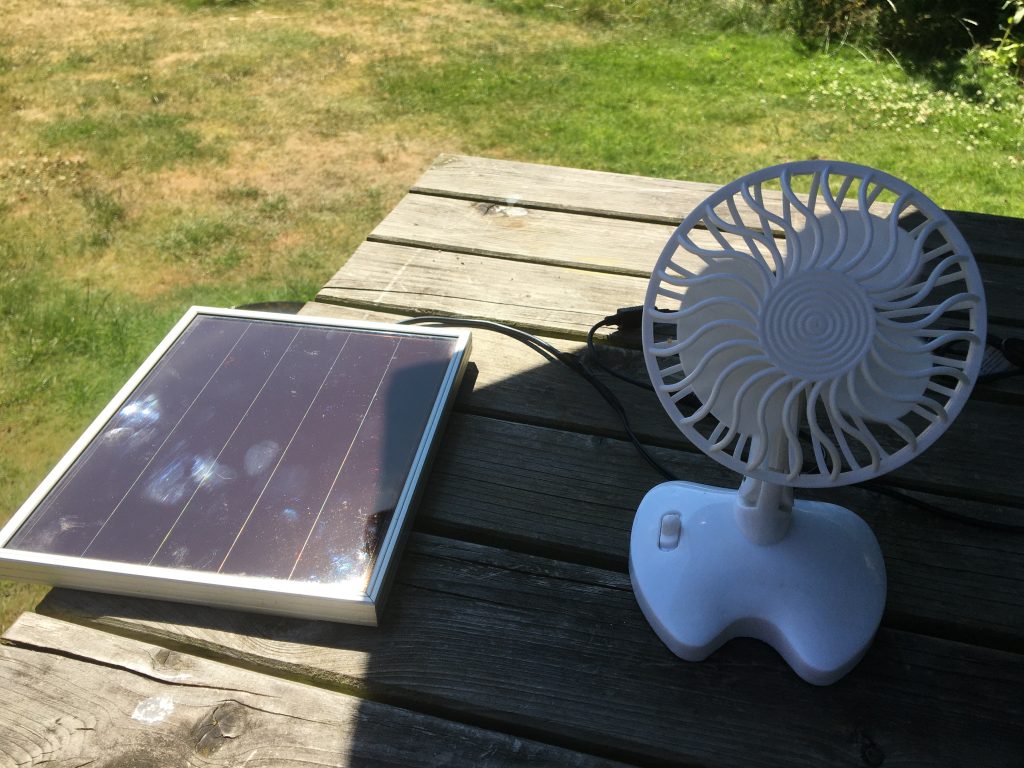 But this isn't particularly robust since a slight drop in sunshine can stop the set-up working. Hence this has been additionally paired with a battery power bank, which can simultaneously be charged with the solar energy whilst also powering the fan.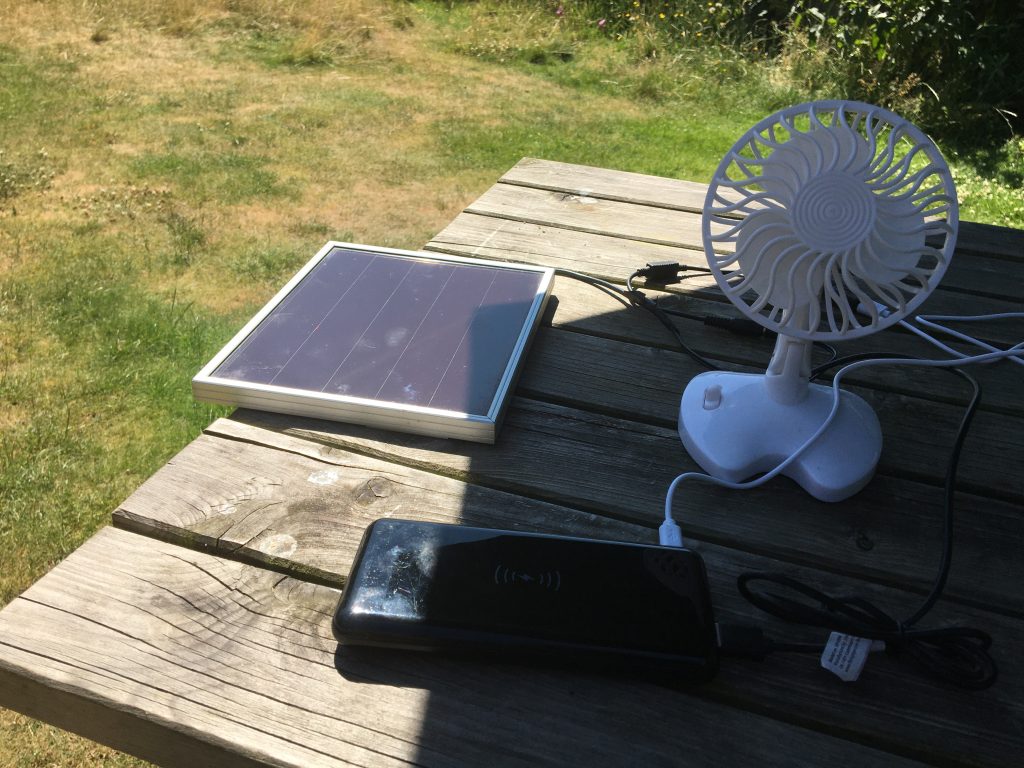 Naturally, the battery pack can be charged separately – ideally powered by locally generated and stored solar energy!
'For those about to Rock' – the Electric future
Hopefully this has been food for thought into the exciting fast developing world of solar power generation and the electric future. Please get in touch if you have questions, comments or ideas to share.
@YellowsBestLtd our mission is in "Keeping Customers Operational". We're always keen to enhance our range of #business services, increase the #enterprise infrastructure we support and expand our mix of #sustainable solutions we offer for supply and maintenance of new and legacy #technologies and products for our customers.
Please help us understand your management services or solutions requirements, whether you're implementing new systems or maintaining existing infrastructure networks to serve your operational business needs.