"Off-grid eCharger"
The aim of this 'off-grid' solar energy project was to build a charger for an eBike so that its battery could be charged (when not in use) from power collected from the sun via a 'fixed' off-grid installation, rather than relying on mains energy. This can also be used for other battery charging and small backup supply purposes.
Four main elements were put together to create the solar charging 'system':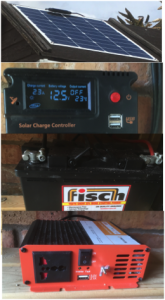 Solar Panel
Charge Controller
Battery
Inverter
Additional parts required were cabling and mounting accessories, plus some optional 'add-ons' in the form of other battery chargers and lights to make full use of the generated power:
System accessories
The resultant assembly captures energy from the sun via the solar panel, 'conditioned' by the controller (to avoid over-charging or issues with varying power) and stored in the battery. Naturally, this can take place throughout the day when the sun shines, without the need for a load to be present. Then when required, the load can be supplied from the stored energy.
The inverter is utilised to supply a replacement AC feed to the specialised Li-ion charger required for the load battery, which can therefore be used as an 'off-grid' power source for other uses in place of a regular 'mains' supply.
Charging additional Li-ion or Ni-Cad batteries for other equipment can be also be facilitated using the 12V output to supply an appropriate battery charger, and as well as powering 12V LED lights for illumination of the work space.
Hopefully this project is of interest and of use to anyone contemplating establishing a solar energy system, with the aim of harvesting energy from the sun, a 'free' resource available to us all!
@YellowsBestLtd our mission is in "Keeping Customers Operational". We're always keen to enhance our range of #business services, widen our #enterprise infrastructure support and expand our mix of #sustainable solutions we offer for supply and maintenance of new and legacy #technologies and products for our customers.
Please help us understand what would be of interest to you by getting in touch to discuss your management services or solutions requirements, whether you're implementing new systems or maintaining existing infrastructure to serve your operational business needs. We look forward to hearing from you.