YB Company Details
Yellows Best Limited is a UK-based private limited company, registered in England and Wales with company number 09836334.
YB's registered address is: 3 Worcester Close, West Haddon, Northamptonshire, NN6 7GN.
YB's VAT Registration Number is: GB 226 9315 03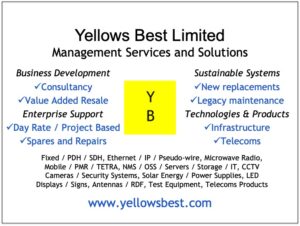 YB Directors
YB Mission
YB's aim is with 'Keeping Customers Operational' by:
– providing professional Management Services to assist customers with their Business Development activities and Enterprise Support of infrastructure; and
– sourcing Solutions such as equipment spares, component repairs and functional replacements for Sustainable Systems maintenance, as well as telecoms and other Technologies and Products to enhance operations.
Contact Us
You can call us: +44 (0) 56 0364 0548  or we can call you back:


You can email us or you can fill out this contact form:
[contact-form to='sales@yellowsbest.com' subject='Enquiry from yellowsbest.com'][contact-field label='Name' type='name' required='1'/][contact-field label='Email' type='email' required='1'/][contact-field label='Telephone' type='text'/][contact-field label='Enquiry' type='textarea' required='1'/][/contact-form]