Project Re-cap
Last year's project, detailed here, built a charger that collected and stored solar energy for use by an eBike, also for charging additional Li-ion or Ni-Cad batteries for other equipment as well as powering LED lights for illumination of the work space.
These 4 main elements were put together to create the solar charging 'system': Solar Panel, Charge Controller, Battery, Inverter. The resultant assembly captures energy from the sun via the solar panel, 'conditioned' by the controller and stored in the battery. This therefore provides an 'off-grid' 12V DC power source, or via the inverter as 240V AC 'mains' subsitute.
Experience from use
What wasn't certain at the time of the project construction was how much energy would be available to be captured (estimates indicated sun 2-3 hours per day, weather and time-of-year dependant), how much could be efficiently stored and what would be needed to charge the eBike (understood to require around 3-4 hours for a full charge) and/or for the other uses.
It had been assumed that there would be sufficient sunlight during summer days to adequately charge the storage battery, but at other times of the year the energy might be lacking, requiring additional solar panels for more energy generation.
The experience gained from use indicated that more solar panels were not needed, as enough energy was being captured, resulting in a fully charged battery (indicated by the charging stopping, despite it being sunny) when not being used for eBike charging. What was noticed however was that if the eBike had been used for a medium to long ride, requiring moderate to high charging afterwards, that insufficient energy was available from the storage battery to power the inverter (indicated by an audio alarm) long enough to fully charge the eBike.
The resulting conclusion was that the storage capacity was needed to be increased, to capture more sunlight energy to be available for charging purposes.
Storage Upgrade
It was decided to purchase a second 12V 110AH 800CCA AGM-type battery, of identical make and specification as the original, thereby doubling the storage capacity (although since its advisable to allow for discharge of only 50% of the stated rating, the total energy available is taken to be 110AH). This compares with the capacity of the eBike battery, which is 36V 11AH (400WH).
It is important to note how additional batteries are added to a solar energy system. The choice is between series or parallel connection.
Series would result in a doubling of the operating voltage to 24V. This would bring some advantages in terms of lower current rating for wiring gauge with the same power, and a simpler daisy-chaining method of connection. However, this is only possible if the other system components are rated for 24V operation.
For this upgrade, it was chosen to add the additional battery in parallel, thereby keeping the operating voltage at 12V (suiting the controller and the inverter) whilst providing more current. The parallel connection requires the battery terminal connections to be separately wired to the inverter and controller connection points, and for safety an additional fuse was added so that each battery is separately fused to protect against a short-circuit.
Conclusions
Limited experience to date of the upgraded 2-battery-storage Solar power system finds that there is now sufficient energy available to completely charge the eBike even after a long ride, without incurring a low-energy warning from the inverter.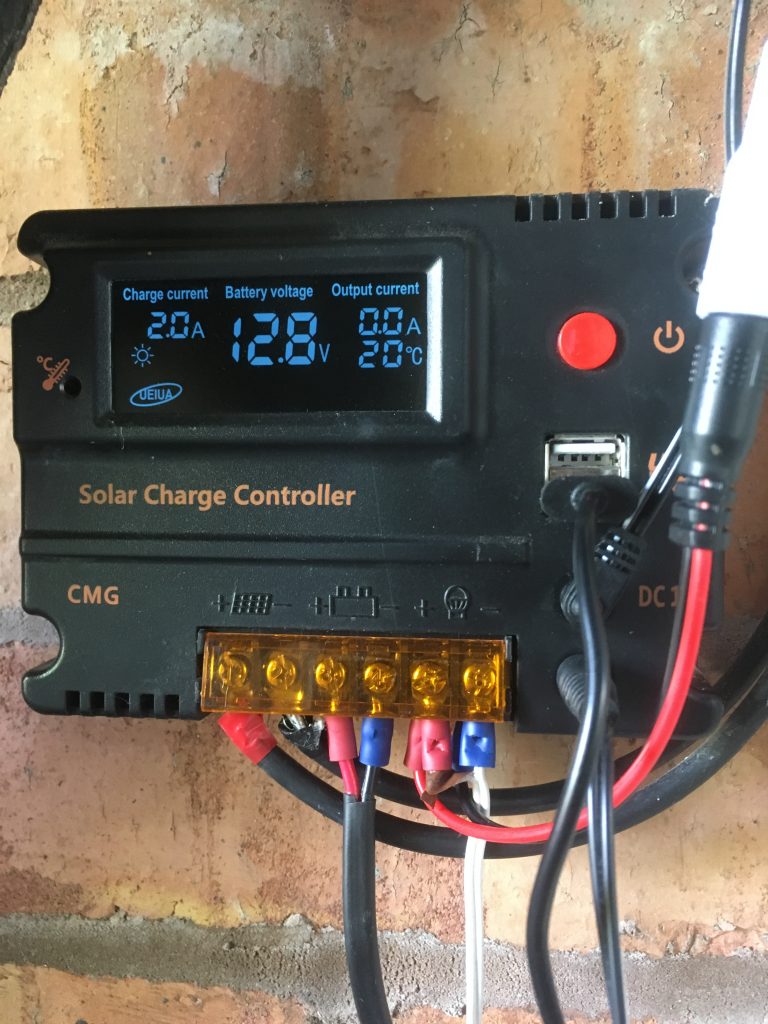 The conclusion is reached that due to the usage pattern of occasional eBike charging compared with the daily solar energy collection, that more battery storage is a more appropriate choice over more solar panel energy generation. This is re-enforced by the fact that on poor-weather days, although there is a lack of available solar energy, the eBike is unlikely to be used, so the energy usage requirements are also low!
If will be interesting to monitor the performance of the upgraded system through the seasons of another year.
@YellowsBestLtd we are always looking to expand our portfolio services for #business development and #enterprise support, and increase the mix of solutions for #sustainable systems and maintenance of new and legacy #technologies and products for our customers. Please get in touch to discuss your requirements; we look forward to hearing from you.