Mission Critical Technologies

For many years, pioneering mobile communications technologies have been developed and implemented to serve the operational needs of professional users, such as public safety, utilities and transport organisations.
Initially based on radio technologies predating the public cellular networks and offering bespoke functionality, these were implemented as individual regional networks. Technology evolved from Analogue to Digital and deployments increased from regional to national rollouts.
We are now on the verge of next generation of mission critical communications with the arrival in the UK of the Emergency Services Network (ESN)
A brief history of PMR
When mobile communications were in their infancy, major organisations with mission critical requirements chose to build their own 'dedicated' networks to ensure availability of service. The users of such systems had operational requirements that shaped the technology developments, and gave rise to features such as Press-to-Talk (PTT), instant call set-up, encryption, user priority, 1-to-many and group calling.
Initially such networks were analogue-based and collectively known as 'Private Mobile Radio' (PMR). Inter-operation between systems was rarely possible, though one standard that did evolve was MPT1327 'Trunking Radio', implemented by a range of vendors such as NOKIA and TAIT. Individual organisations built, operated and maintained their own infrastructure.
The next generation of technologies were digitally-based; one of the most widely adopted standards was TETRA. A break-though was the standardisation of the 'air-interface' permitting the inter-operability of user mobile terminals with infrastructure from a range of manufacturers, such as NOKIA and Motorola.
In the UK, two nationwide networks were rolled out, AIRWAVE for public safety users and DOLPHIN for professional users. The latter of these hit financial difficulties and was closed. Other regional networks were deployed, such as that on the London Underground, whilst other organisations continued to maintain their analogue-PMR systems.
ESN is coming
As on show at this year's @TechXLR8 expo, the Emergency Services Network (ESN) is set to revolutionise professional mobile communications in the UK again, ultimately replacing the existing Airwave TETRA network and offering existing and updated services.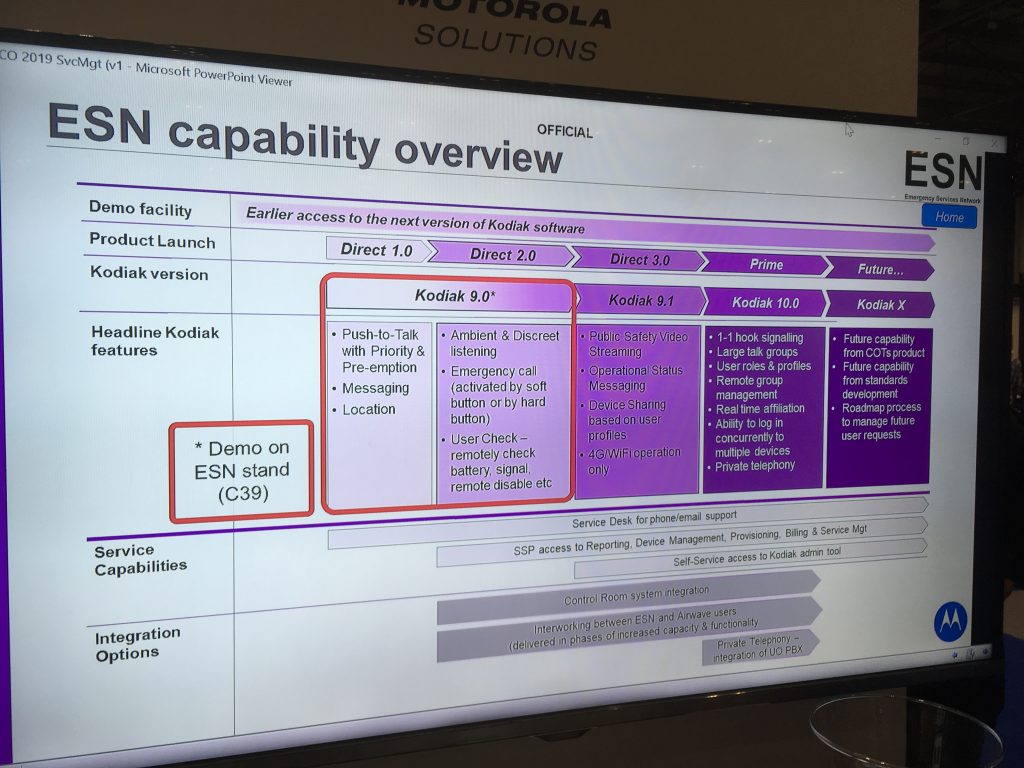 Essentially, acting as an overlay onto EE's 4G network, the software from Motorola solutions will deliver an advanced mobile communications experience, including the PTT, group-call, priority and security features demanded by professional users.
The new service will bring PMR into the modern era with ruggedised mobile-phone-like user terminals providing advanced data capabilities, offering high quality colour-displays, GPS-mapping and location-based services.
A huge investment in development and rollout is taking place, which will result in additional network capabilities and coverage provided by 500 new base-station sites. The new network will serve the needs of the Police, Fire, Ambulance services as well as other professional users such as local authorities and utility services.
Supporting existing and future requirements
@YellowsBestLtd satisfies new and 'legacy' requirements for the operations and maintenance of systems and networks by providing services including consultancy, technical support and hardware repairs, and solutions, with the supply of functional replacements, spare part items and software support.
We would be keen to hear from you regarding your existing or future operational needs; please get in touch.