Electrical power systems protection
Teleprotection for power systems protection has been deployed by utility companies for many years. It's purpose is to monitor the condition of the Electricity Grid, isolate faults, disconnecting faulty parts from the rest of the network and thereby prevent damage to critical parts of the power infrastructure.
Teleprotection is a physical interface between the telecommunications equipment and the electrical grid protection relays. When a fault occurs, the protection system switches on circuit breakers or reclosers to avoid a fault rippling through the network. Also, in the event of an outage, teleprotection helps restart power to a part of the grid.
Early teleprotection systems used voice-frequency signalling technologies. These were replaced by digital electrical Tele-Protection Signalling (TPS) equipment using 4 or 8 command channels encoded into a 64kbit/s standard digital data channel, in accordance with the ITU-T G.703 recommendations. This brought dependability and interoperability of systems, meaning that dedicated channels were no longer required as any standard digital transmission network could be used, separate from the power system.
This was later enhanced by the development of Tele-Protection Systems with Optical (TPSO) interfaces, which allowed the direct fibre connection between the teleprotection device and the primary multiplexer.
The IEEE C37.94 standard for TPSO interfaces
The IEEE C37.94 standard defines an optical fibre interface for use between teleprotection systems and digital multiplexer equipment, operating at a data rate of nx64kbit/s.
This allows the interconnection of different vendors teleprotection equipment with different vendors multiplexer equipment, without any restriction on the content of the nx64kbps data, using up to 2km of 50μm or 62.5μm multimode (or up to 20 km of 9μm single-mode) optical fibre.
Critical Systems deployment
Teleprotection systems are typically installed in high-voltage transmission grids where distances are usually greater than in distribution grids and play a critical role in preventing instability in the grid and damage to expensive substation equipment.
Teleprotection systems monitor conditions on transmission lines and coordinate tripping of the transmission lines to quickly isolate faults.
A teleprotection system usually has two components: a protection relay, which executes the actual switching; and the teleprotection equipment itself, which is the interface to the mission-critical communications network.

To ensure that the power systems are properly protected, real-time exchange of status information messages and commands between teleprotection equipment must be reliably transferred with tightly-controlled latency over a deterministic mission-critical communications network, traditionally composed of TDM multiplexers and optical PDH or SDH equipment.
Nokia 'Dynanet' TPSO 24204
An example of a vendor's multiplexer is the Nokia 'Dynanet' equipment family. This utilises the TPSO 24204 interface unit for connecting the teleprotection devices directly to the primary multiplexer. This provides four IEEE C37.94 standard interfaces, with nx64kbit/s optical data channels (where n is 1 to 12).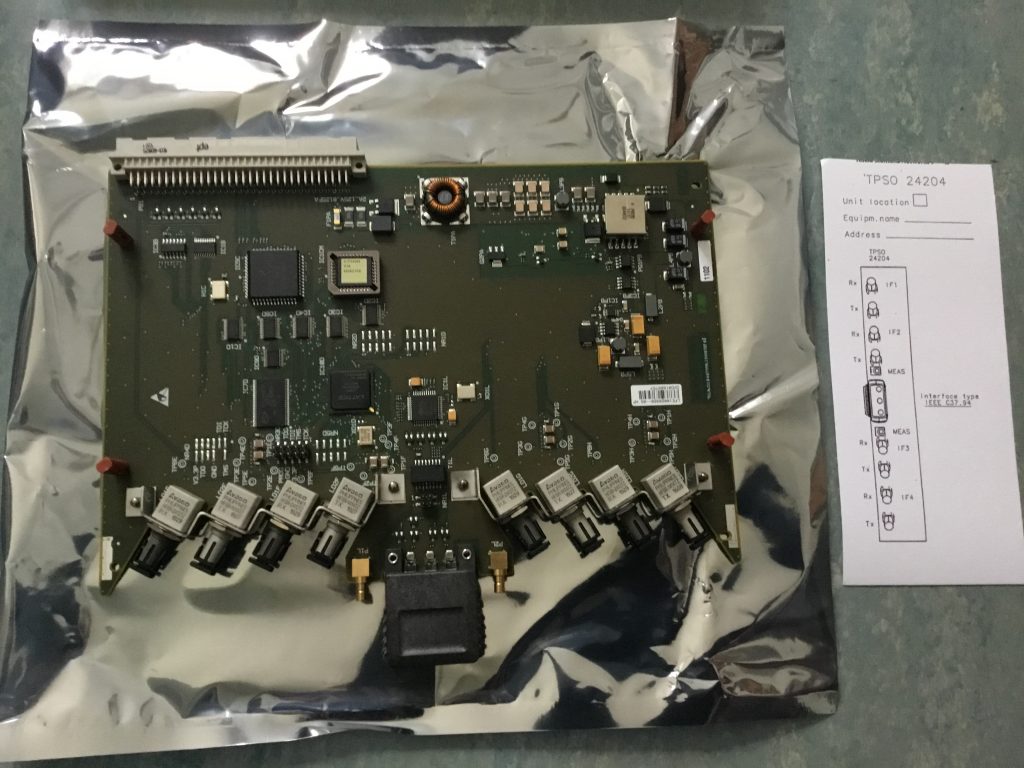 Because of the direct connection, there is no need for a separate converter to change the optical connection to electrical. This eliminates electrical interference and data corruption caused by disturbances from the high voltage power line.
Your operational systems requirements
Let us know how we can assist you to keep your new and legacy systems operational with technical support, repair services and equipment spares. We look forward to hearing from you.