A portfolio of comprehensive yet simple security solutions to protect critical assets is produced by RadiFlow.

Supervisory Control and Data Acquisition (SCADA) systems, used for controlling and monitoring remote operations in critical infrastructures such as power utilities, oil & gas, water and more, often extend across multiple remote sites, allowing automation devices to be controlled from the control centre.

Cyber threats to SCADA systems have in recent years been on the rise. Terrorists and criminals have set their sights on critical infrastructures that utilise SCADA systems due to these systems' inherent vulnerabilities and the huge potential to disrupt civilian life and may cause high financial losses to the utilities.

Radiflow's security tool-set validates the behaviour of both M2M applications and H2M (Human to Machine) sessions in distributed operational networks.

Radiflow's security solutions are available both as in-line gateways for remote sites and as a non-intrusive IDS (Intrusion Detection System) that can be deployed per site or centrally.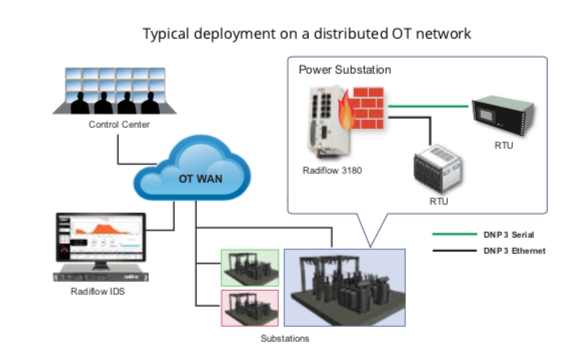 A Complete Security Solution for SCADA installations
Visibility – Radiflow's iSID Intrusion Detection System (IDS) automatically learns the network topology (links, protocol and devices) using passive scanning. Any new activity is highlighted on the GUI.
Protection – Radiflow's IDS and Secure Gateways protect the SCADA networks from a variety of cyber threats such as network scanning, infected RTU and technician activity.
Compliance – Radiflow's security products help make networks compliant with major security standards: NERC CIP version 5, NIST SP 800- 82 V2, ISA 99 and IEC 62443.
About Radiflow – founded in 2009 as part of the RAD group, a family of ICT vendors with over $1Bn in annual revenues. Radiflow's security solutions, introduced in late 2011, have been successfully deployed by major utilities world-wide, and validated by leading security research labs. Radiflow's security solutions are sold both as components within global automation vendors' integrated end-to-end solutions, and as standalone security solutions by local channel partners.
@YellowsBestLtd seeks Solutions and provides Services to support Customer requirements to maintain and keep operational critical infrastructure networks. Please get in touch to discuss how we can be of assistance.