Communicating, or stuck in The Matrix?
The original Nokia 8110 'slide' mobile phone was immortalised in the film 'The Matrix' in 1999.
Back then, people used mobiles for mostly … calling people, and the occasional text message. Ok, and a few plays of the game 'snake'!
It was affectionately referred to as the 'banana phone' due to its unusual curved shape, though the only colour you could get it in was black.
Since then, we have had a revolution in data networking and an explosion of app-based touch-screen smartphone slates. So much so that people are finding themselves addicted to looking at these personal pocket computers 'all the time'.
Consequently, there is now a growing trend of wanting a 'digital detox' and to get back to basics with a simple, cheap device that keeps you in touch without taking over your life.
The updated Nokia 8110 4G 'Banana' phone
In 2016, HMD Global Oy took over the licence to produce Nokia branded phones, and have since been revisiting and refreshing classic designs including their take on the 'slide-phone' with the 8110 4G.
As well as traditional black it's available in bright YELLOW, making it this time the true 'banana phone'.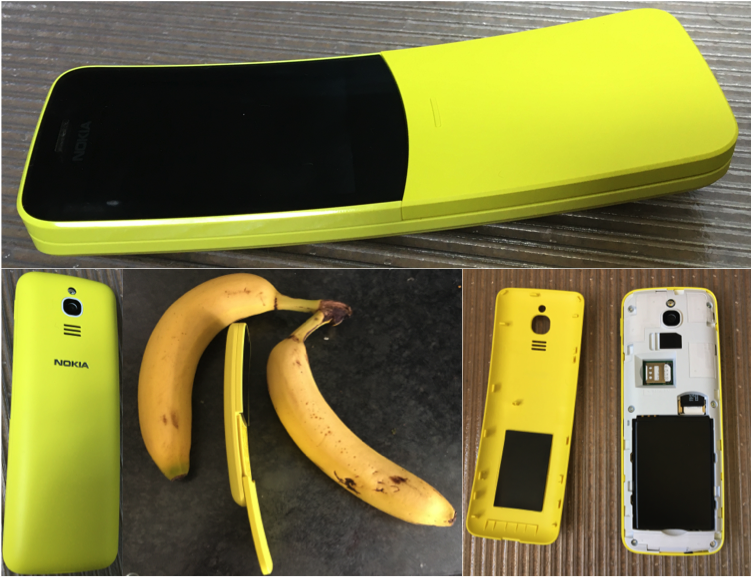 With a design that harks back to those simpler days, it never-the-less comes with a number of advanced features.
What's Good: Simple 'Real' number and calling keys for phoning and familiar 'Nokia' menu structure providing Call log, Contacts, SMS. Twin SIM cards for 4G calling flexibility at home and away. WiFi. Removable micro SD-card for expandable storage. Replaceable battery. Music Player, FM Radio and headphone jack. Camera, gallery and video player. Internet Browser and e-mail. Flashlight, Notes, Recorder, Calculator and Unit Converter. Clock and Calendar. Google Maps and directions.
What's not-so-great: No touch-screen! Small display. Minimal App support. Fiddly 'old school' text-entry. Slow and limited internet capabilities. Low-resolution imaging and video, and no front-facing 2nd camera. Cursor keys surprising small and tight to bottom of display making scrolling more awkward than it ought to be. Having to take the battery out to insert / remove the memory card.
What's Fun: Answering calls with a slide (and end them again by closing. Freedom from 'smartphone' addiction, though if you really must, WhatsApp, Twitter, Facebook and Youtube can just about be used. And 'snake' (though a strange 'modern' version), plus some other games and more can be downloaded.
In summary, this is a feature-packed but 'basic' mobile which brings an iconic design up-to-date, is fun to have, does the basics and a bit more.
Keeping connected with a digital detox
This Nokia 'featurephone' doesn't pretend to rival 'smartphones' in capabilities. But useful as a supplementary device in case of a flat battery, and good for just keeping connected while getting on with life. Handy too when wanting to avoid carrying a very expensive piece of hardware when active or travelling.
There has been a trend to have just one device with as many functions as possible packaged in, with inevitable strain on battery life. It can however be sometimes preferable to use a Hi-Res player for music, a quality camera for photography, a tablet for internet browsing and a phone for – phoning!
So not a complete digital 'detox', rather just providing another alternative option to keep 'plugged in' to today's 'Matrix' world of communications.
Your technology experiences
If you have fond memories of past technologies, views on future trends or experiences to share on managing your digital life, please get in touch. We're keen to discuss how we may be of assistance in developing your business and keeping your new and legacy systems operational.