The original 'smartphone' – Nokia Communicator
Remember way back in the late 90's and early 2000s, when Nokia ruled the mobile phone market, they launched the Communicator series. Essentially it was the coming together of a mobile phone and a PDA, joined with a hinge that 'opened up' to reveal a full QWERTY keyboard and display screen. Always somewhat big and bulky, it initially was way ahead of anything else, offering phone, text, email and even fax communication.
The E90 was the last and most feature-packed variant, produced in 2008. More compact and powerful, it featured colour screens inside and out, video and photo cameras with flash, 3G telephony, Bluetooth and WiFi connectivity, together with internet browsing, GPS maps, photos, video and music players, radio, clock, calendar, contacts and a file manager, plus games and the ability to install apps like quick office for document creation and spreadsheeting. In short, it had everything we've come to expect in a 'smartphone', lacking one key ingredient – a 'touch' screen.
10 years on, it's a testament to Nokia's impressive build quality that it looks almost as good as new and still works as well as it did, though of course without the ability to pinch, zoom and swipe, and no 'app store'. The photo and video quality now looks very basic, as do the limited number of games and apps; but it is possible to load it up with an up-to-date Opera web-browser and Google maps. The music player still works well, using a headset or in speaker mode, as does email and texts – and naturally it can still make telephone calls!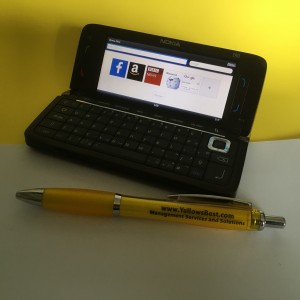 The Nokia phone business itself didn't fair so well, being eclipsed by the competition and then sold off, as recently well documented in "The rise and Fall of Nokia" (shown previously on BBC4, now on youtube) by Arto Koskinen. However, more recently Nokia phones have made a bit of a comeback, relaunched by HMD Global. Though probably no hope of a new Communicator model?!
Mobile phones for all – Nokia 5110 'featurephone'
If you can remember the 20th Century and the dawn of the mobile phone, then the Nokia 5110 maybe familiar. Introduced in 1998, during the period of Nokia's seemingly unstoppable rise, and helped them become the world's number one mobile phone producer, which they remained for the next 14 years.
This was the breakthrough when phones ceased to be 'bricks' (though still including an external antenna) and became mass-market devices that everyone could consider carrying, even just as an 'emergency' phone. Text messaging was included, though many people at the time couldn't see what the point of that was: "its easier to just ring someone, isn't it?" How times have changed! Plus it had a clock, calculator, and a choice of ring tones including the now famous 'Nokia tune'. And Nokia introduced the world to 'snake', heralding in the era of mobile gaming. No app store yet, and 'touch screens' and even colour displays were still to come. But you could now choose the colour of the product; they didn't have to be just black anymore!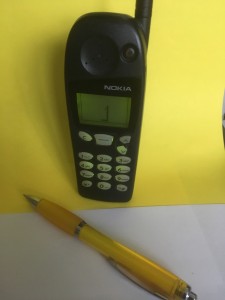 The phones themselves were of the solid long-lasting construction that characterised the products of that time from the Finnish manufacturer, perhaps due to the harsh winter environment of home they were built to survive, which is why 20 years later, it still works! Looking back, the surprising thing is that despite its rugged nature, a case was often used, and given the (now, seemingly) impressive talk and standby time, it was quite usual to have a spare battery too. Perhaps that was because they were still seen as an expensive luxury, and given that 'normal' desk phones didn't run out of power, 'early adopters' wanted to make sure they could always make use of their investment.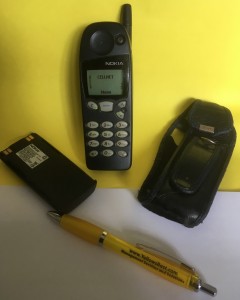 Much has since changed in the world of mobiles, such that they're not even used much as just 'phones', and Nokia's phone business itself came and went, though now being revived by HMD Global. On the cusp of the launch of a new 'flagship' model, the Nokia 6.1 plus, it's also interesting to see the 're-introduction' of some 'classic' phones, the 8110 and 3310, harking back to those early beginnings.
@YellowsBestLtd we're always keen to hear from #business customers looking to maintain and keep operational "legacy" products and #enterprise equipment, as well as newer #systems, helping to source and supply spares, repair and support services so that assets and #technologies continue to serve and perform. Please get in touch to discuss your Management Services and Solutions requirements; we look forward to hearing from you.